Our Construction process
Step 1
Our teams will break ground at the site, removing the turf and ensuring the site is perfectly level.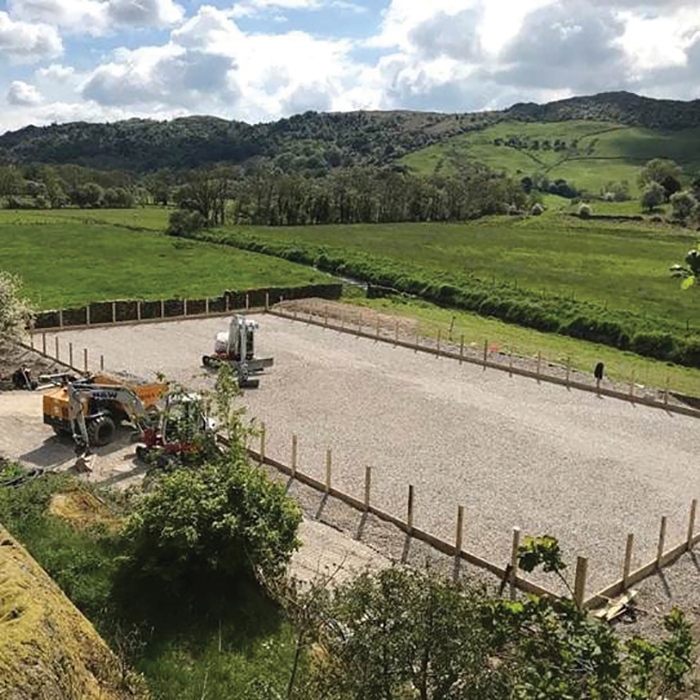 Step 2
The drainage channels dug out and fencing concreted into the ground and then the drainage base is installed with two membranes: one below and the other heavier weight membrane above the stone layer.
Step 3
The riding surface can then be installed and compacted and dressed left ready for use.  Happy riding!
Find out more
Request a callback
WE CAN MANUFACTURE, SUPPLY AND INSTALL YOUR SURFACE
CALL +44 (0) 1282 834 970 OR REQUEST A CALLBACK BELOW TO FIND OUT MORE
Options for your arena base
Flexibility according to your needs
1. The traditional stone base
The traditional base is the most widely used option. Consisting of a fully perforated drainage pipe system, a stone blanket with separation membranes laid between sub-base and stone layer before the riding surface is installed.
2. Grid system
The grid system is mainly used in the construction of temporary arenas, such as for competition sites or for those waiting on planning permissions to be passed. The grid system can also be used over a stone drainage blanket for turnouts and lunge pens to replace the use of a membrane. Being more robust in nature, the grid system won't be damaged by digging in a turnout.
3. Ebb & Flow system
The Ebb & Flow system is a specialised under-surface watering system which eliminates the need for above-ground watering, making surface maintenance easier to manage.
More about what we do
Our Services