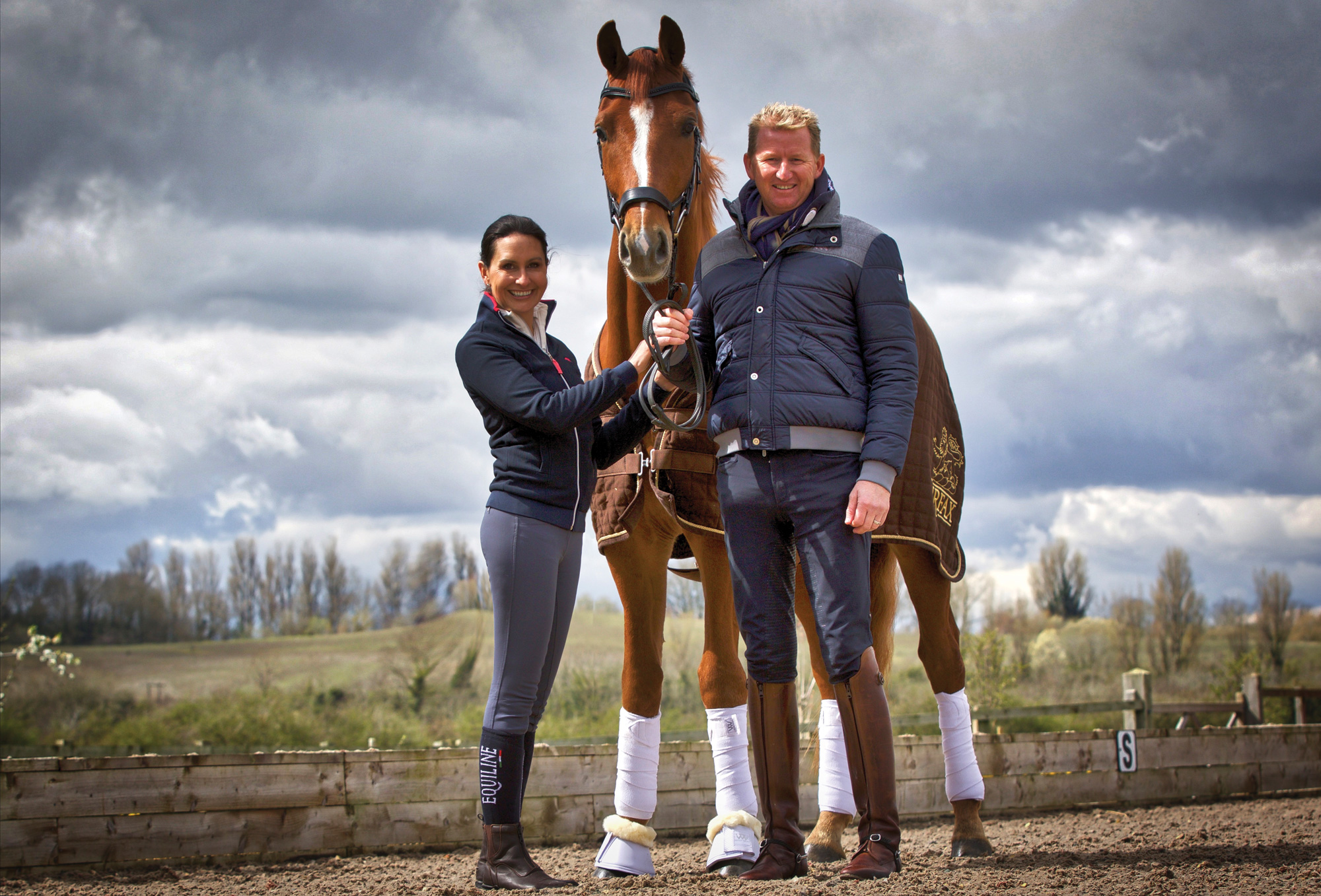 15.05
2020
Gareth Hughes – Staying Positive During Lockdown
Champion dressage rider, coach and GBR Team medalist, Gareth Hughes, shares his experience of adapting to change during the lockdown. 

2020 was set to be a very busy and eventful year, before everything came to an abrupt halt in March.
Our 12-year-old daughter, Ruby, who is part of the English Vaulting Squad, was due to compete in France, USA, Belgium and Aachen (Germany). She was also aiming for the Senior World Vaulting Championships in Sweden. Rebecca had a full diary, taking Ruby to her internationals, and with premier leagues and internationals booked in with her own dressage horses. Rebecca is also normally kept busy looking after the sales side of the business and will usually complete two or three trips abroad every month, visiting horses for clients.
I had firmly set Tokyo in my sights, being in a very privileged position of campaigning three Grand Prix horses, led by our European Championship ride Classic Brionlinca. A busy year was planned with chasing that team place as well as bringing through the up-and-coming younger horses, and a lot of my time was assigned to coaching, at home but also abroad at least twice every month.
It all takes a lot of planning with running the yard and keeping all the wheels turning – there are always a lot of balls in the air for us!
In March, we were competing at Keysoe CDI when talk of the virus started to take hold. And none of us could have envisioned what was about to happen.
Within the week, the calendar ground to a halt. All competitions and plans for coaching had to be put on hold and, all of a sudden, we found ourselves in lockdown. It was like being in a movie, and there were a lot of questions floating around – what did it all mean and how would it affect the year? All our internationals started to get cancelled, and then we were met with the news that the Olympics were to be postponed until next year. It was like all of our plans had changed overnight.
We were, of course, initially very disappointed that the plans we had made would not come to fruition. But then the devastating effects of this virus hit, and it put everything into perspective. Our focus shifted to the safety of our family and friends.
Whilst in lockdown, we have still been training our dressage horses, but we've been careful not to take any extra risks, so we haven't been hacking out or jumping them. Thankfully, the weather has been divine recently, and they have finally been able to enjoy some grass after a very long winter.
With no school, Ruby has had plenty of opportunity to ride more frequently. She has been keeping up her conditioning religiously, so that once her vaulting competitions resume, she's fit and ready to go. She has, however, also had plenty of schoolwork to do at home, which she hasn't been best pleased about!
I've found plenty of time to do the mowing, and our staff have all been helping with painting and cleaning the yard, so everything looks spic and span. With having this bit of unexpected extra free time, I've also turned my hand to music, and I've been trying to learn the guitar. I've managed to petrify the cat with my playing, to the degree that whenever he sees me reach for my guitar, he'll do a runner, so I'm hoping to see some improvement soon!
I've also loved being involved with Equestrian Relief, organised by Nina Barbour. The event saw teams of equestrian celebrities competing against each other in several activities, which included a 5km run, a plank challenge, a bake off, an arts and crafts contest and a hidden talent showcase. We were able to raise around £300,000 for the NHS, which we were all incredibly pleased with!
At Hughes Dressage, we are in a fortunate position, due to our outdoor lifestyle, that we aren't restrained within four walls and we are able to enjoy some extra quality time with our horses. This has allowed us to concentrate on their training without the pressures of competing. Like everyone else, financially we have taken a bit of a hit as clients aren't able to travel for lessons. However, I've been spending more time carrying out training online, and it's great that demand is growing. It will be interesting to see if this is something that will continue to grow after lockdown has been lifted.
We're all keeping our eyes and ears peeled for the updates, which is all we can do for now. This, for sure, will be a year none of us will forget easily!
Stay safe, everyone. Look after your loved ones, and we'll see you on the other side!