07.09
2020
Crazy Horsey World Records
Fancy yourself an equestrian whizz? How many of these top horsey world records do you have in your knowledge bank?
World's smallest horse
From Missouri (USA), Thumbelina, the smallest horse ever recorded, measured in at a mere 4hh (44.5cm). Sadly, she passed away in 2018.
The smallest horse currently living is Polish superstar Bombel. Measuring 5.2hh (56.7cm), the little appaloosa lives with his owner, Katarzyna Zielinska, and often visits children's hospitals to bring a smile to young patients.
World's tallest horse
The tallest (and heaviest) horse on record was a shire gelding named Sampson (later renamed Mammoth). Bred by Thomas Clever of Toddington Mills, Bedfordshire, Sampson was foaled in 1846 and measured 21.2hh (2.19m, 7ft 2.5 inches), weighing in at 1,524kg (3,359lbs).
The tallest horse still around today is Big Jake at Smokey Hollow Farms in Poynette, Wisconsin (USA), whose last recorded measurement (taken in 2010) was 20hh 2.75 inches (2.1m, 5ft 10.75 inches).
The longest horse tail
Kansas mare JJS Summer Breeze currently holds the world record for the longest tail. When last measured in 2007, her flowing locks reached extreme lengths of 12ft 6in (381cm)!
World's oldest horse
Foaled in 1760 and bred by Edward Robinson of Woolston, Lancashire, Old Billy lived to the ripe old age of 62 years, and still retains the world record of longest-lived horse to this day!
The oldest recorded thoroughbred racehorse was Tango Duke. Foaled in 1935 and owned by Carmen J. Koper of Barongarook, Victoria (Australia), the chestnut gelding lived to be 42 years old and passed away on 25th January, 1978.
The biggest horse race
The race in Jhui Doloon Khudag, Ulaanbaatar (Mongolia), held on 10th August, 2013, attracted some 4,249 runners. Achieved by the Federation of Mongolian Horse Racing Sport and Trainers during an event organised by Mr M. Enkhbold (President of FMHRST) and Mr P. Sergelen (Secretary General of FMHRST), the race covered a distance of 18km (11.18 miles). The fastest time achieved was 24 minutes and 30.42 seconds, and the ages of riders ranged from 7 years old to 79 years old.
The record jumping height of a miniature horse
Miniature horse Castrawes Paleface Orion, measuring 9.3hh, achieved a world record after clearing 1.08m during a national show held by the Independent Miniature Horse Registry (IMHR) in Australia back in 2015.
World's fastest racehorses
Winning Brew, a two-year-old filly, reached record-breaking speeds of 43.97mph in a two-furlong race in the USA back in 2008, whilst Stone of Folca holds the world record for fastest racehorse over five furlongs, winning the Epsom Dash in 2021 in 53.69 seconds!
The first ever horse race
Whilst horsemanship was an important part of the Hittite culture of Anatolia (Turkey) from around 1400 BC, the earliest known horse race officially recorded took place as part of the 33rd ancient Olympic Games of 648 BC, held in Greece.
The earliest race recorded in England was held in approximately 210 AD at Netherby, Cumbria.
Oldest winning racehorse
Born on 5th April, 1983, Al Jabal, a pure-bred chestnut gelding ridden by Brian Boulton and owned by Andrea Boulton (UK), was 19 years old when he won the Three Horseshoes Handicap Stakes (6 furlongs) on 9th June, 2002, at Barbury Castle in Wiltshire.
The highest fence jumped
The highest jump, as officially recorded by the FEI, is measured at 8ft 1.25 inches (2.47m) and was achieved by Huaso ex-Faithful, ridden by Captain Alberto Larraguibel Morales at Vina del Mar, Santiago (Chile) on 5th February, 1949.
Jumpers making an attempt for this record will need to clear 2.49m to qualify!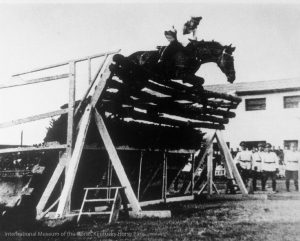 World's largest rocking horse
The largest rocking horse ever built was created by Gao Ming in China, and measures up at 41ft x 14ft x 26ft (12m x 4m x 8m).
World's oldest horse stables
Discovered in 1999 by a joint German-Egyptian archaeological team headed by Edgar Pusch from Germany, the world's oldest horse stables were uncovered in the ancient city of Piramesse, in the Nile Delta, Egypt, and are believed to have been established by the Egyptian pharaoh, Ramses II (1304-1237 BC).
The stables are also believed to be the largest in the world, spanning approximately 17,000m2 (182,986ft2), with the capacity to house 460 horses. Also comprising a courtyard and horse-bathing pool, the stables were built on a slant to allow the urine to drain away and be used as fertilizer.
Oldest horse twins
Born in 1982, Tiff and Griff are identical Cremello males measuring 11.2hh, and are now owned by the Veteran Horse Society in Cardigan, North Pembrokeshire. The pair have spent their entire lives together and have retired to the Veteran Horse Society having spent a lot of their early years giving children rides at London Zoo.
Largest collection of stick horses
Dan Cavanah of Florida (USA) holds the record for the largest collection of stick horses, totalling 460! Dan first began collecting in 1990 after a friend bought him a stick horse for his birthday as a joke.
Did you know…
Stick horses are often referred to as hobby horses, but the two are actually distinctly different objects.
The word 'hobby', meaning interest or pastime, is derived from the name 'hobby horse'.
Most expensive horse (at auction)
Bidding on a (then unnamed) two-year-old thoroughbred colt who had yet to even race reached record figures in an auction held at Calder Race Course in Florida (USA) on 28th February, 2006. Since named Forestry, in reference to the colt's pedigree, it was bought through an agent named Demi O'Byrne (Ireland), who paid $16 million (then £9.1 million) for the horse.
Biggest racing prize
The Dubai World Cup meeting held at the Meydan Racecourse (Dubai) on 27th March, 2010, holds the world record for the greatest amount of prize money for a single day's racing, totalling $26.25 million (£17.62 million), while the largest prize fund for a single horse race at the event was set at $10 million (£6.71 million), split between the top six placing horses. The winner's share of this total was a whopping $6 million (£4 million)!
Most mounts & dismounts from a moving horse in one minute
Alessandro Conte managed to mount and dismount from a moving horse 32 times in the course of one minute whilst making his record attempt on the set of Lo Show dei Record in Rome, Italy, on 20th March, 2012. His record is yet to be beaten!
Could you be a Guinness World Record holder?
There are still a number of categories yet to be attempted for, including the record for the fastest time to complete 10 showjump fences.
Fancy your chances? Visit the Guinness World Records website to find out more about how you can sign up to make your horsey world record attempt!
Got a question for us about your equestrian surface? Get in touch with our team!