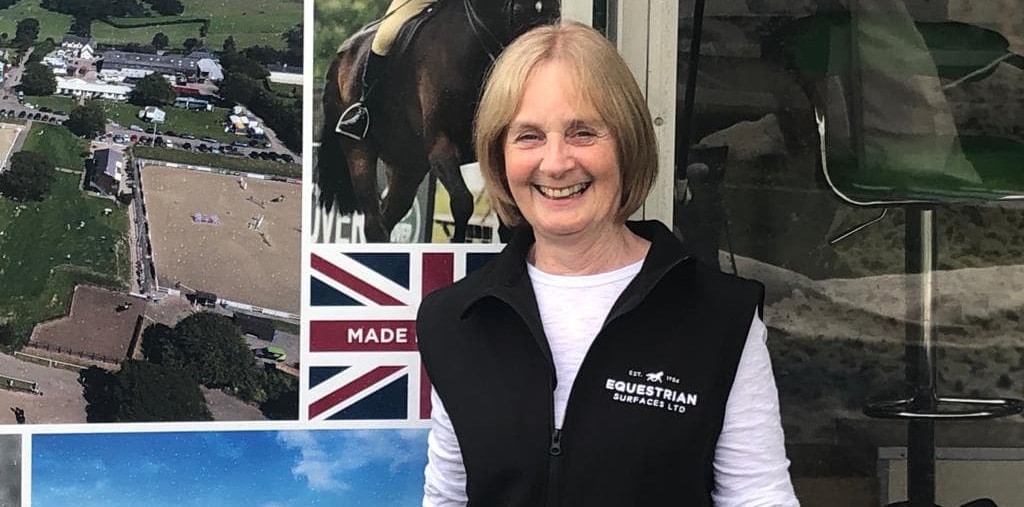 15.03
2023
Bidding farewell to a treasured member of the team – Janet retires!
As March draws to a close, we're getting ready to bid a fond farewell to one of our longest-serving and most cherished team members, Janet Finnigan, who is retiring after an outstanding 37 years of service with Equestrian Surfaces Ltd. 
For those of you who are unfamiliar with Janet, her unwavering dedication to our company has been unmatched, and it's safe to say that she has made an immeasurable impact not only on our own internal team members but on our clients, too. 
Janet's career at Equestrian Surfaces Ltd began in 1986 when the company was first incorporated, and since then, she has played a pivotal role in our success. Her role as a Telesales and Product Sales Representative has been vital to the growth of our business, and quite frankly – we don't know where we would be without her!
Despite rarely meeting our clients in person, Janet's unique talent lies in her exceptional ability to establish authentic connections and build rapport with our customers over the phone. By actively listening to their needs and concerns, she consistently goes above and beyond to ensure that we prioritise results over profits. We firmly believe that this approach has been a critical element in our business's success, as it has allowed us to foster lasting client relationships that are based on trust and respect.
"Janet's friendly and personable approach has earned her the utmost admiration and praise from our team and clients alike; people genuinely love her." explains Managing Director, James Harper, "As a matter of fact, so many of our clients have been with us for years and years, and we know that in part, this is due to the sincere rapport Janet has built with them."
"We're all extremely sad to be watching her go and will miss her presence greatly – but at the same time, there's no one I can think of that is more deserving of a fantastic retirement spent with her loved ones. It's truly a testament to her kindness and collaborative nature  that both old and new employees have held Janet in such high regard – and she's certainly left her impact on all of us!" 
Catching up with Janet
In light of her upcoming retirement and as Janet prepares to depart, we had the opportunity to catch up with her and reflect on her time here at Equestrian Surfaces Ltd…
Q. How and when did you start working for Equestrian Surfaces?
A. Before Thomas was born, I began working with Paul and Rita (original Founders of Equestrian Surfaces Ltd). Throughout the years, I have assisted in various roles, such as accounts and project management. However, one day, Paul unexpectedly approached me and requested that I work in sales – the rest is history!
Q. Things have probably changed quite a lot since you first started; what are you most proud of during your time here?
A. I take great pride in working for a company that offers the best products, and I have complete confidence in what I am selling. It fills me with joy to see how far the company has come, and I am excited about the future direction it is taking under the leadership of James and Thomas. Although I will miss being part of this journey, I am grateful for the opportunity to have been involved from the very beginning when we started with just a portacabin and plant hire. Of course, there were challenges and mistakes made along the way, but these have served as valuable lessons for all of us.
Q. What is the biggest challenge you have faced during your time at Equestrian Surfaces?
A. When I was first assigned to the sales department, I had no prior knowledge of how to sell and had to create my own systems and databases from scratch. I vividly recall the moment we acquired our first computer. It took me months to set up the accounts, only for the unfortunate event of our offices being burgled and the computer being stolen. We were gutted!
Q. What will you miss the most about Equestrian Surfaces when you retire
A. It is with a heavy heart that I say goodbye to everyone, including the team and our clients. Although we have had our ups and downs, we have always managed to get along really well. While my time working with the new starters, Laura and Harry, was brief, they are both lovely people, and I hope they'll really love it here. You're both in great hands! 
Q. How do you plan to spend your retirement?
A. While I am looking forward to my retirement, I won't be able to relax too much initially! I have some work that needs to be done on my house and garden, and I plan to spend quality time with my friends, family, children, and five grandchildren. I also hope to have some more "me" time, which I feel I deserve after working since I was 15 years old and into my late 60s.
We certainly couldn't agree more with you on that one Janet! Thank you again for your impeccable work ethic, can-do attitude and kind-hearted nature. You will be missed!