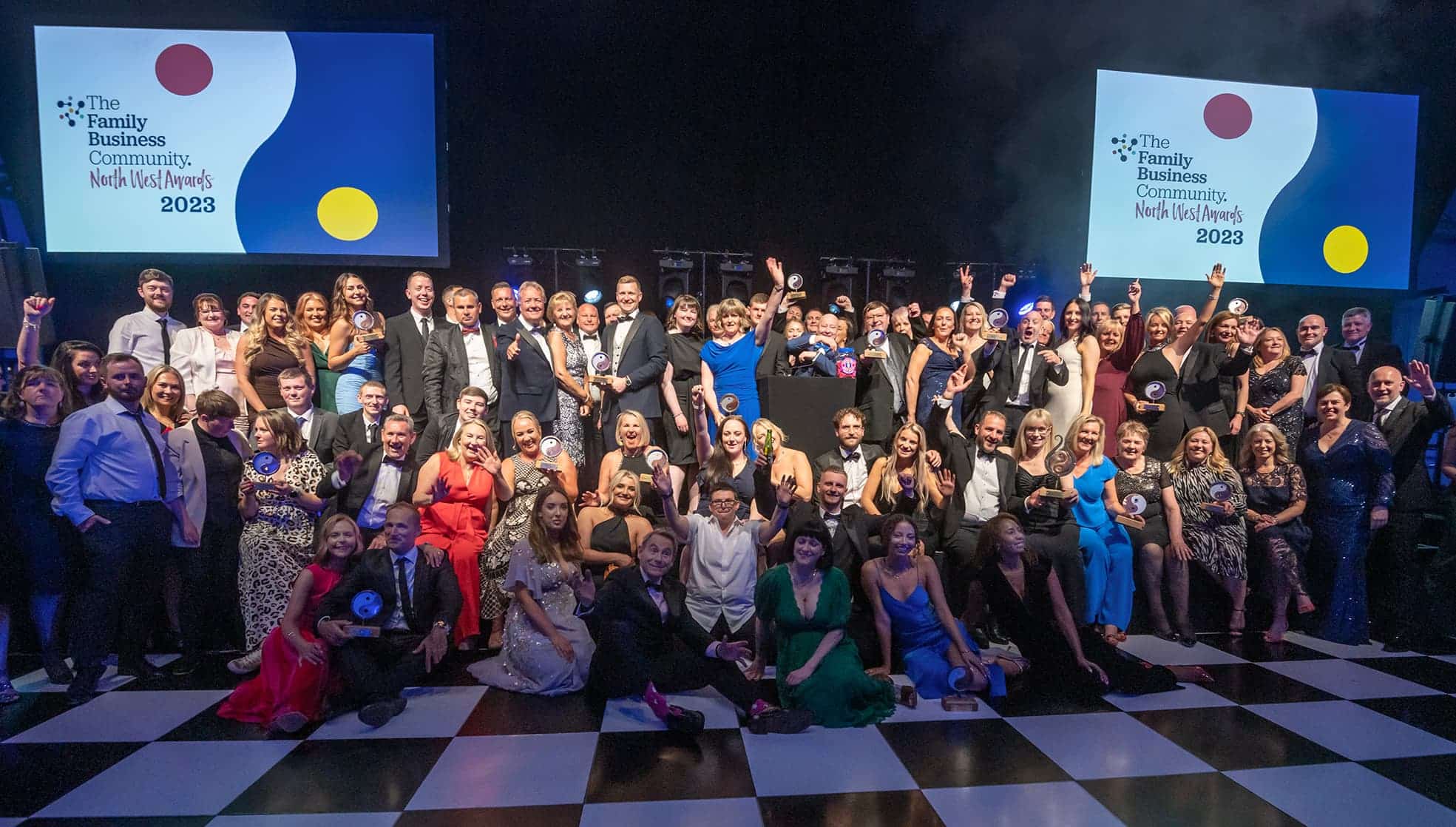 26.05
2023
Winners at the North West Family Business Awards 2023!
Don't mind us – we're still riding the high from our latest victory at The North West Family Business Awards, 2023! 
Earlier this month, we were thrilled to attend the 2nd annual North West Family Business Awards ceremony, held at The Concorde Conference Centre in Manchester Airport. We were nominated as finalists across three categories – Construction & Engineering, Manufacturing and People's Choice. 
Joining over 500 fellow business owners, entrepreneurs and industry experts from across the North West, our team had a brilliant night getting their glitz on and celebrating the success and accomplishments of our region's most successful family-run businesses. 
However, the cherry on top was undoubtedly being crowned the official winner of the Construction & Engineering Award and beating some big names to the title, too! 
"We're absolutely thrilled to come away with the Construction & Engineering award," says our Sales Director, Thomas Harper. "Alongside producing our award-winning equestrian surfaces, we also have decades' worth of experience in planning and constructing everything from small gallops to large-scale arenas.
"We carried out our first arena construction in 1984 and have since built a stellar reputation for executing projects worldwide, everywhere from the USA, the Middle East, South Africa and Asia. Of course, to have this achievement formally recognised is a great testament to our hard work as a business – and we'd like to say a huge thank you to the judges.
"As always, the competition was incredibly high this year, and we'd also like to thank the other businesses shortlisted for the awards – as well as our fellow winners. It's a privilege to be held in such high esteem among so many industry-leading experts.
"We deeply appreciate every single team member, both past and present, for your tireless work, determination, and dedication. It's our fantastic team that makes us who we are. Our thanks also extends to our clients that have supported us over the years; as your trust and support have allowed us to flourish into the international market leaders that we are today. We couldn't do this without you!"
What is the North West Family Business Awards?
The North West Family Business Awards, organised by The Family Business Community are designed to champion family-run businesses across the North West. Co-hosting this year's awards, alongside Sue Howorth and Dave Clarkson, was the renowned food and drink broadcaster and writer, Nigel Barden. 
Organisers have expressed their delight at the success of the award…
"'The turnout was our largest to date, and felt a fantastic energy in the room which was incredible. We're so grateful for everyone who came out to support the awards and recognise the hard work and dedication of our North West family businesses. It was truly an unforgettable night for everyone in the room!" 
For us at Equestrian Surfaces, the event was the first of a rather busy season of awards celebrations,  and it certainly got off to a kicking start. Next up, we'll be heading to The Freshies Awards on the 23rd of June, where we're nominated for the 'Planet Protector' award. 
For now – we've got our fingers crossed!