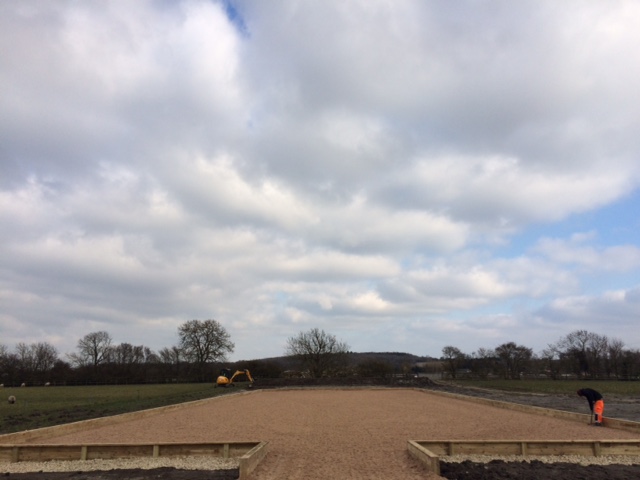 18.07
2016
Prestigious Classic Dressage install NEW 20m x 60m Equi Grids outdoor!
The prestigious Classic Dressage recently moved locations, and with the move came the commission of a brand new 60m x 20m outdoor arena.
The outdoor arena was the installed using the NEW EQUI GRID system . This new patented system is manufactured within Germany and comes with an unheard of 20 years product warranty. The huge advantages to this product is that they promote natural horse movement, this is due to the products high degree of elasticity ad good grip. With the grid system also being crack proof they withstand extreme weather conditions.
The advantage of the natural horse movement and high degree of elasticity works in the favour of Classic Dressage with the vast amount of hugely talented youngster they bring on from there base. This base along our Cushion Track Classic footing allows for the perfect base for these talented performance horses.
The arena only has the retaining boards around the perimeter with no post and rail fencing, this is becoming ever more popular with each individual, but whatever your requirements we can design bespoke arenas to fit each individual needs. The surface of choice was the Cushion track Classic surface, one of our most popular waxed surfaces which is a blend of the multi washed silica sand, stabilising fibre with a high temp waxed coating
.