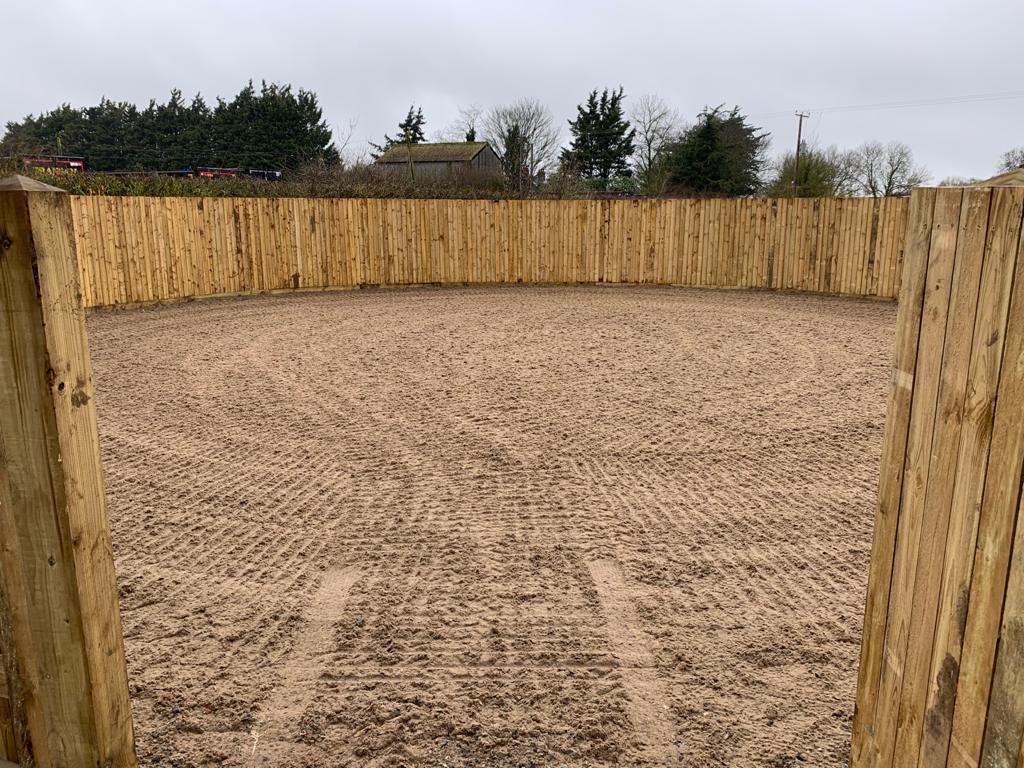 07.04
2021
Recent Projects
At Equestrian Surfaces Ltd, we're all really thankful that we've been able to continue with the manufacture, supply and installation of our quality riding surfaces despite the global pandemic. 
With restrictions set to lift and a return to Equestrian sports on the cards, we can't wait to be back on the roads and getting involved with some of the events in this year's calendar, but even with the lockdown in place, our team have been kept busy with arena construction, installation, maintenance and refurbishment projects all over the UK. 
Here's what the team have been working on in recent weeks… 
Darling Dressage, Suffolk – Construction 
We recently teamed up with Greenfisher Contracting to construct a new 16-metre lunge pen for the team at Darling Dressage in Suffolk. 
The new pen was built with the EquiGrid foundation system in place, which offers a practical and cost-effective solution, ensuring the surface retains its structural integrity and the foundation layers and membrane are protected from the horses digging in. 
The end result is pretty impressive – well, we think so anyway! The team have done an amazing job on the close board fencing, with the steel frame manufactured by our own in-house welding team to help save on weight. 
Cambridge – Upgrade 
The team have been working hard down in Cambridge in recent weeks on an ongoing project to complete remedial works to a large indoor arena. 
With 185 tonnes of our Wax Track surface now installed on site, there were several aspects involved in this upgrade, including the installation of concrete panels and a close board fence, and the addition of cladding on one side to match the existing cladding already in place. 
"The transformation we've seen since works began on this project has been quite remarkable," says Managing Director, Tom Harper. "A special mention goes out to our resident joiner, John, who has outdone himself once again with the superb finish on the viewing area around the judges' box." 
Wrexham, North Wales – Construction
Works have officially started on a 46m x 22m outdoor arena in Wrexham, North Wales, which we are currently working on alongside the team from Ridesafe Arenas.
The works began with the arena being levelled and drained, followed by the perimeter fencing being installed, the foundation stone and membrane laid, and the job was finished off with 210 tonnes of our Economy Track surface. 
As part of the plans for this project, we'll be installing mirrors on both the long and short side of the arena, and creating an area for a judges' box. There are also plans for us to construct some steps to allow for access from the stables into the arena for viewing purposes. 
It's been a pleasure to work alongside Ridesafe Arenas on this project, and we can't wait to see the finished result!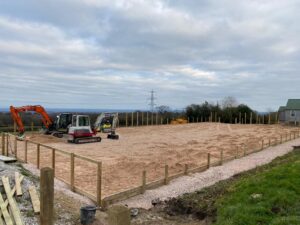 Leicester – Refurbishment  
We're pleased to report that works have been progressing well in Leicester, where the team have been refurbishing a 40m x 20m arena. 
With foundation stone installed, the team have been working on laying the Wax Track surface onto the non-woven membrane.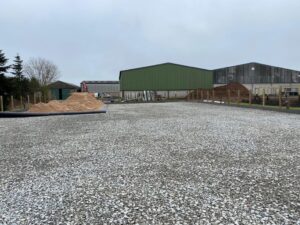 Stow-on-the-Wold – Refurbishment/Upgrade 
The team have been working hard in Stow-on-the-Wold in recent weeks, where we have now replaced the surface on an 800-metre gallop. 
As well as lifting the existing sand, fibre and rubber surface to replace it with 400 tonnes of our Wax Track Racing surface, we're also working on installing additional drainage and a new turning circle. 
"Our Wax Track Racing surface is ideal for all types of gallop work," explains Tom. "It's particularly good for stamina work, as it allows the horse to work through the surface but still retains its structure throughout the entire depth, helping to build endurance and prevent the risk of injury." 
RAF Northolt – Refurbishment 
The project at RAF Northolt, which involved a top-up of Economy Track installed on their 60m x 30m arena, is now complete! 
In addition to giving the surface a new lease of life, and having it graded and commissioned using our own Trackmaster leveller, we've also replaced the rotten top board around the arena, giving the project an excellent finish. 
Classic Dressage, Ashorne – Maintenance 
The indoor and outdoor arenas at Classic Dressage have both been turned over, relevelled and graded, and are ready for happy riders! 
It was a pleasure to be invited back to Classic Dressage, where we constructed the outdoor arena back in 2016, finished off with our Cushion Track Classic surface. We later revisited in 2017 to install our Sound Track surface on their indoor arena. 
Interested in finding out more about our arena planning, construction, installation, and maintenance services, or looking for a new surface on a supply-only basis? We manufacture our world-class surfaces right here in the UK, and have both waxed and non-waxed surface options available. Get in touch with our team today!