The non-waxed surface range
A pre-blended, non-waxed surface guaranteeing consistent quality.
Our Economy Track surface is an ideal option for those with small- to medium-sized yards who are looking for a new riding surface that is cost-effective, without having to compromise on quality or performance. 
Pre-blended in our UK manufacturing plant, our Economy Track arrives on site perfectly mixed and ready to be installed. Purchasing your track pre-mixed, as opposed to purchasing the loose components of sand and fibre individually, ensures the ratio of sand to fibre is precisely balanced and evenly distributed throughout the surface providing a footing with superior support. 
Economy Track is a dry, non-waxed surface which will require regular irrigation, particularly in dry periods, to maintain its condition and performance, and to ensure that it reaches its full potential.
GET IN TOUCH
BENEFITS
Suitable for all disciplines 

Suited to indoor and outdoor use 

Increased stability and excellent water retention 

Pre-blended at our warehouse for simple installation and guaranteed consistency 

Ideal for those with damp/wet climates 

Excellent value, without compromising on quality or performance
Tried and Tested
Our Economy Track is installed at a range of equestrian venues across the country, including in riding schools, liveries, private yards and at-home arenas. 
Providing an excellent level of support, Economy Track is relied upon by riders across a wide range of disciplines, in both indoor and outdoor arena settings. It is currently installed at Richmond Equestrian Centre, Runningwell Equestrian Centre, Breach Lane Equestrian Centre, Whitehill Stud, and Crow Wood Equestrian Centre, to name but a few, and we continue to receive excellent feedback on the performance of the surface from those who make regular use of these venues.
Daily Usage (high impact)
Ease of Maintenance
Longevity
Dressage
Eventing / Multi-discipline
Gallop / Training
Lunge pen
Polo
Racing
Showjumping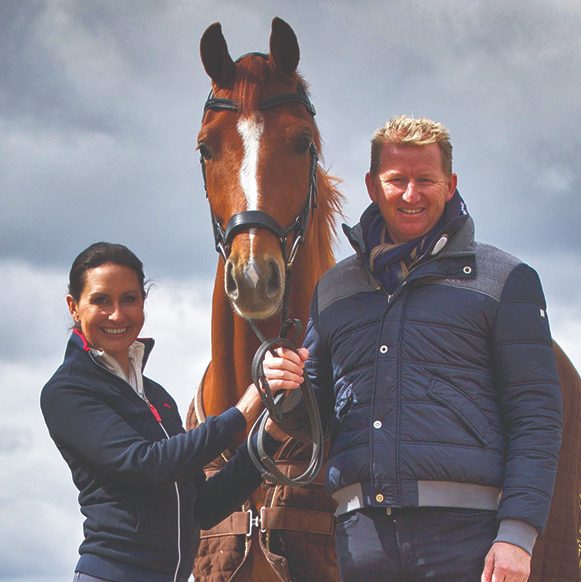 Used & loved by
Gareth & Rebecca Hughes
"We use Equestrian Surfaces for both our indoor and outdoor arenas; I can honestly say the quality of the product is second to none, it definitely improves the quality, confidence and movement of our horses."
Find out more
Request a callback
Keep your surface performing at its best
We'll help to maintain your surface
Carrying out thorough and regular maintenance on your surface is the only way to guarantee its longevity and to ensure it continues to offer the best support, cushioning and energy return, helping to prevent injury and keep your horse safe.
View our packages