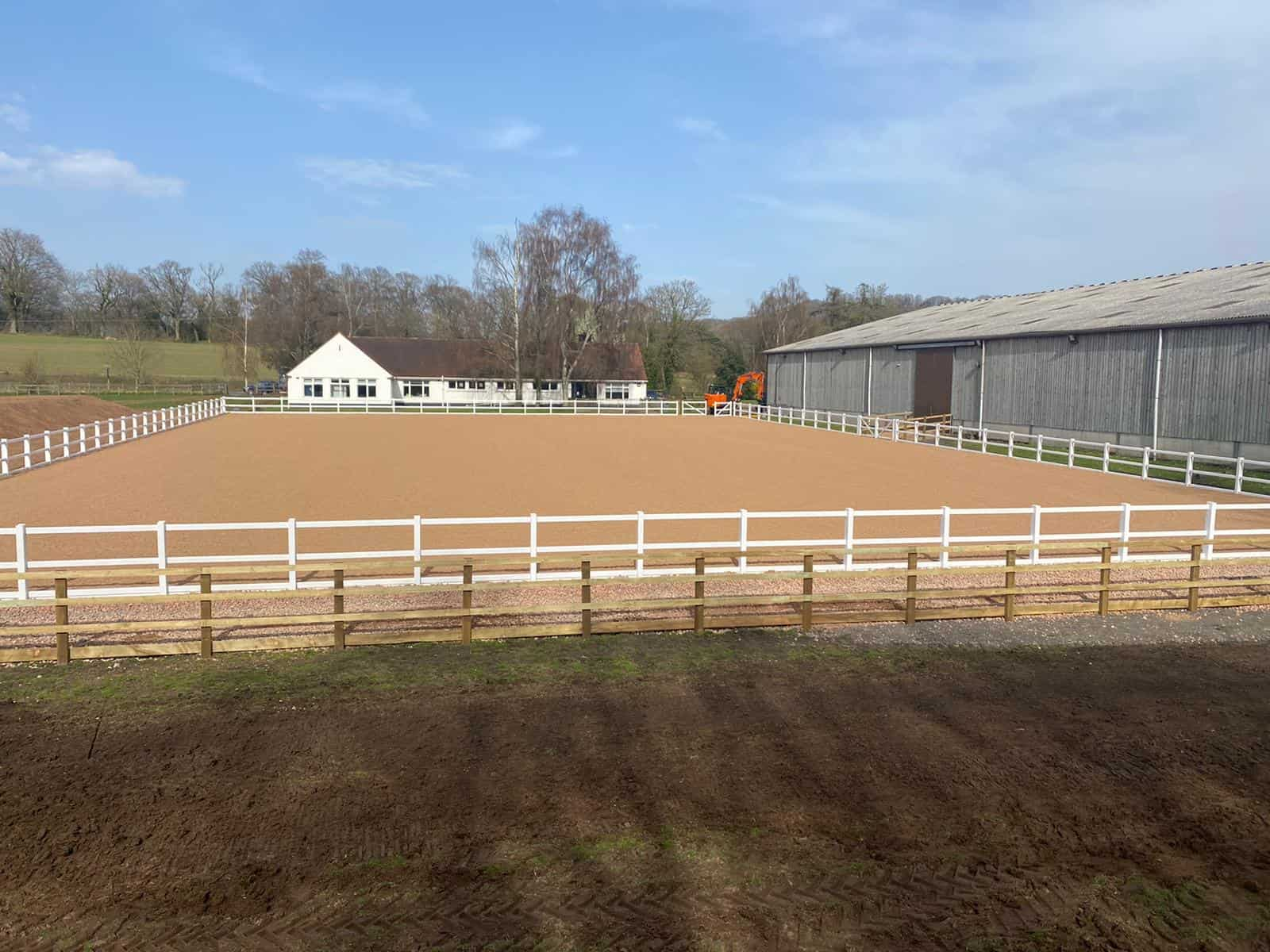 11.10
2021
Building a New Riding Arena – Our Top Planning Tips
Planning and building a new riding arena is not only a big project to take on, but it's also a serious investment, and one that should be handled with a lot of careful consideration. 
With elements like location, size, surface, budget, and site accessibility to keep in mind, the whole process of constructing and installing a new riding arena, indoor or outdoor, can be overwhelming. However, when you enlist the help of an experienced team of professionals, like the team we have here at Equestrian Surfaces Ltd., you can expect the process to be efficiently managed and completed as smoothly as possible. 
Set your budget 
As with any large-scale project, being clear on your budget from the beginning is key. Not only will your budget play a key part in informing the decisions you make – in selecting your surface, choosing which contractor to work with, and perhaps even planning the size of your new arena – but setting up a clear budget will help to ensure your project is seen through to completion. 
It's a good idea to set your budget before you instruct anyone to break ground, as without a clearly-defined spending limit, costs can soon begin to mount. In the worst case scenario, there is the potential for funding to dry up before your arena is finished. 

Location, location, location! 
Once you've done the maths and outlined how much you're willing to spend on your new arena, it's time to consider the best location for your new investment. 
A well-reputed company will be sure to remind you that the sub-base is key – the more level the site for your arena, the less expensive the ground preparation will be. It's also important to remember that, whilst it may be an option to cut into the ground in order to bring your arena to level, this can also cause issues with regards to drainage, and can leave your surface susceptible to flooding in bad weather. If cutting into the ground is your only option, investing in a more advanced drainage system is likely to be the only remedy, which can, of course, lead to an increase in costs. 
You'll also need to consider the practical aspects of the project, including site accessibility, as there are bound to be several vehicles coming and going during the process of construction. Timing is also key. For example, if you decide to schedule your build during the winter, the weather is likely to affect your construction schedule at some stage, so this is something to keep in mind when planning your project. 
In order for the works to go ahead efficiently, any overhead power lines, gas lines, land drains, or other service lines need to be noted. Make sure your contractor sees the plans so that construction can be planned around these barriers accordingly. 
It's also ideal to avoid tree belts where possible. If they're unavoidable, it is possible to build in their proximity – you'll just need to be prepared to collect the leaves from the surface whenever they fall in the autumn, and you may find some vegetation growth from seeds that have fallen from the trees. This can be fixed with a grader or by hand weeding.
Placing your new arena close to a convenient water supply will make it much easier for you to keep on top of maintaining your surface. Non-waxed surfaces will require regular irrigation, particularly during the dry months, so it's important to think about either installing or making use of an accessible source of water when considering the location of your new arena. 
Planning permissions and their accompanying fees can throw off the schedule and budget of your project if they're not accounted for in the earliest stages. At Equestrian Surfaces Ltd., we work closely with a planning consultant who can provide you with expert advice and manage your planning application, liaising directly with your local council throughout the process. With permissions granted on 100% of the equestrian installations we've designed and planned, you can be assured that your application will be handled by the best in the business.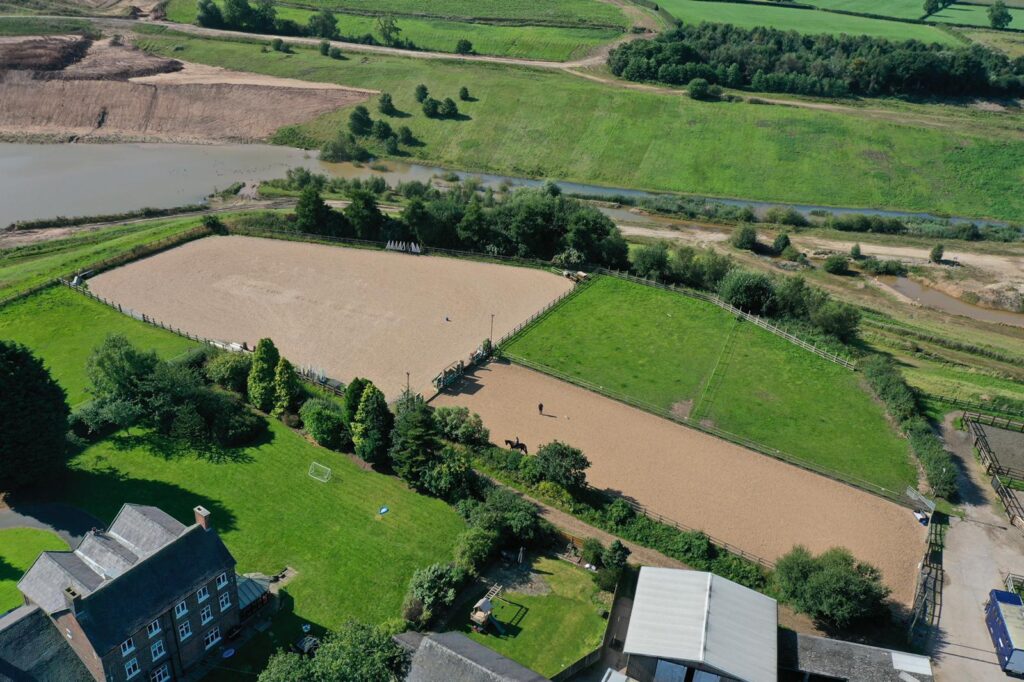 Select the right surface 
With so many different surface options to choose from, it can be difficult to know where to begin. For many, the decision will be based on two core factors – budget and maintenance requirements. Additionally, the surface you choose for your arena will have an impact on the health and performance of your horse, so the demands of the discipline you practice should also be taken into consideration. 
Waxed surfaces 
Waxed riding surfaces are known for their versatility and ease of maintenance. The wax within their composition offers a resistance to freezing when temperatures drop, whilst also eliminating the need for irrigation during warmer spells. 
Designed to be hard-wearing and durable, a waxed sand and fibre surface provides superb support, good cushioning, and exceptional energy return, whilst providing users with a safe footing all year round, in all weathers. For this reason, a waxed surface is often the surface of choice for the professional equestrian, who will rely on the use of their arena to earn a living throughout the year. 
Non-waxed surfaces
Non-waxed surfaces are lower in cost, but they do require more regular maintenance. Non-waxed surfaces are best suited to arenas that are subject to wetter weather conditions, and will need to be irrigated regularly when the weather is warm and dry. 
Still struggling to decide? Read our guide to choosing the right equestrian surface for your needs here. 
Think long-term – surface maintenance 
When properly looked after, your new arena surface should provide you with an excellent footing for the next 10+ years. Whether you decide to go for a waxed or a non-waxed surface, regular maintenance is vital to ensure continued optimal performance, so the maintenance requirements of the surface, along with information about any additional machinery you may require, should inform your decision on which surface you'd like to commit to. 
We have several guides on how to properly maintain an indoor or outdoor riding surface. Click here to find out more. 
We also offer a range of maintenance packages for each of the surfaces we supply, making life that little bit easier for you and helping to keep your arena in top shape. Find out more about our maintenance packages. 
Find a company you can trust 
At Equestrian Surfaces Ltd., we take a great deal of pride not only in the quality of our products, but also in the quality of the service we strive to provide. 
We've been planning, designing, building and installing our professional-grade riding surfaces for over 35 years. 
Got a project in mind? Get in touch with our team today!