12.10
2020
Choosing the Right Equestrian Surface
If you're planning to build an entirely new arena, gallop or lunge pen, or if the time has come to update the surface of your existing fixture, there are a number of factors you should consider when deciding on which equestrian surface to go for. 
Purchasing a new equestrian surface is a big investment, and as our range of surfaces have been designed with longevity in mind, it's important that you're happy with the surface you select. As such, you'll need to be prepared to evaluate your needs before making any purchase. 
Some important factors to consider: 
Impact 
The ideal surface will provide the perfect amount of support for your horse, whilst also providing optimal levels of shock absorbance and energy return. The key elements to evaluate when considering the impact rating of an equestrian surface are: 
The surface should be firm enough to provide support with minimal concussion, yet soft enough to aid in absorbing shock.
The surface should provide enough resistance to allow for good balance, shock distribution and energy return.
The surface should cup into the sole and collateral grooves of the frog to provide resistance and weight support.
The surface should be active and springy, returning energy at the same rate as it is applied and aiding the horse in gaining momentum without having to overwork. 
The surface needs to be loose enough to allow the hoof to slide, yet compact enough to provide stability for the horse, without being so hard to cause concussion or provide a landing which is harsh to the bones and joints. 
Maintenance 
Some surfaces will require a more rigorous maintenance routine than others, so the maintenance demands of a surface are a key element to consider when browsing for your ideal surface. 
Discipline 
The health and performance of your horse can be affected by the surface you choose, so it's important that you invest in a surface which is well suited for its use. 
For example, in order for dressage horses to foster good paces and athleticism, a secure footing that is neither too deep nor too firm is required. Jumpers need a stable surface which allows for them to turn quickly and jump without slipping, whilst also allowing for the correct amount of rotation in their joints. Arena polo surfaces need to enable fast movement and maximum grip for quick turns and bursts of acceleration.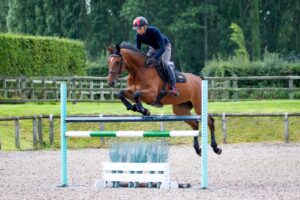 Waxed vs. Non-waxed Surfaces 
For many, the decision boils down to whether to go for a waxed surface, or a non-waxed surface. To help with making that decision a little bit easier for you, we've outlined some of the key differences between waxed and non-waxed surfaces below. 
Waxed Surfaces 
Waxed surfaces are known for their versatility and ease of maintenance. The wax within their composition offers a resistance to freezing temperatures, whilst also reducing the need for irrigation during warmer spells. 
Waxed surfaces are safe to use all year round, meaning you will never have to miss a day of riding. A waxed surface will offer the same level of performance day in, day out, making it the perfect option for professionals who rely on the use of their arena to earn a living. 
Designed to be hard-wearing and durable, a waxed surface also provides superb support, good cushioning, and exceptional energy return to keep your horse performing at optimum. 
Our waxed surfaces are made using multi-washed silica sand, environmentally friendly synthetic stabilising fibres, and wax. Our range features surfaces that are suitable for professional training centres, competition grounds and racetracks, as well as a selection that are suitable for leisure pursuits and private use. 
Non-waxed Surfaces 
Non-waxed (or dry) surfaces are slightly lower in cost, but do require more regular maintenance. Perfect for arenas in wetter climates, the non-waxed surface will need to be watered often in dry climates in order to maintain its structure and performance.
When investing in a non-waxed surface, the maintenance of the surface is a larger commitment than with a waxed surface. However, dry surfaces do offer a great, low-cost alternative without compromising on quality or performance. 
Our Surface Range 
Our range features seven synthetic surface options suitable for indoor and outdoor use in all weathers, for all disciplines. 
Our Waxed Surfaces
Our world-class racing and competition surface 
The original waxed surface offering top-quality results for all disciplines 
Designed to promote soundness and user confidence 
The affordable waxed surface for private or professional use 
Our Non-waxed Surfaces 
A high-grade surface teamed with our Ebb & Flow drainage system
A pre-blended, non-waxed surface guaranteeing consistent quality 
Our cost-effective and environmentally friendly option for improved stability 
Still not sure which is the best surface for you? 
With over 35 years in business, you can trust the experts at Equestrian Surfaces Ltd to help you select the best surface for you. Our team strives to provide the highest level of customer service, and will be more than happy to provide you with sound advice and guidance throughout the planning and construction process. Get in touch with us today!