19.05
2022
Building a Riding Arena: A Guide to Riding Arena Construction
As well as being a serious investment, building a riding arena can be a huge project to undertake, and as such requires a lot of careful planning and consideration. 
Wondering how best to get started with building a new horse riding arena? Here's our comprehensive guide to the riding arena construction process, including top tips for planning, an overview of your arena surface options, and a few things to look out for along the way.  
Indoor horse arena construction 
An indoor riding arena is a great option for those who are reliant on their arena 365 days a year for training, teaching, or exercising purposes, as riders will be protected from any adverse weather conditions. 
Indoor arenas do, however, require more thorough planning, and can also cause an increase in your monthly property rates, which can lead to them being more costly than outdoor areas. 
Top things to consider when it comes to building an indoor riding arena: 
Your surfacing options are a little more limited. For riding arena surfaces, rain can actually be a good thing! As your indoor surface won't be exposed to the elements, we would advise heavily against investing in a non-waxed riding surface, as the maintenance requirements would be extremely high. 
You'll need to keep in mind the discipline your surface is going to be used for when planning the size of your indoor arena structure. If your indoor surface is to be used for jumping, for instance, you'll need to make sure the structure housing your surface is tall enough to allow for jumping safely. 
Your energy consumption is likely to go up. Lighting, heating/cooling, and irrigating your new indoor riding arena will all amount to a bigger energy bill each month, so you should account for this in your budgeting. 
Outdoor horse arena construction 
Being exposed to the elements, there are arguably a lot more factors to take into consideration when planning and building your outdoor riding arena, including: 
The location of your arena
Consider access for your construction team, the condition of the ground you intend to build on, the site's proximity to any obstructions (overhead power lines, gas supply lines, tree belts, etc.), and the access you will have to a reliable source of water. We'll go into this in more detail later on in this post. 
The climate you'll be riding in 
Certain surfaces are better suited to warmer climates, whilst others will be a good choice for those in wetter climates, so do keep the weather conditions and average temperatures in mind when selecting a surface for your outdoor riding arena. Again, we'll provide further advice on your arena surface options later in this post. 
What your arena will be used for 
If, for example, you intend to use your arena year-round for training, teaching, or even to host competitions, extras such as floodlighting, spectator seating, specialist arena fencing, or mirrors may need to be added to your construction quote, and thus considered in your budget.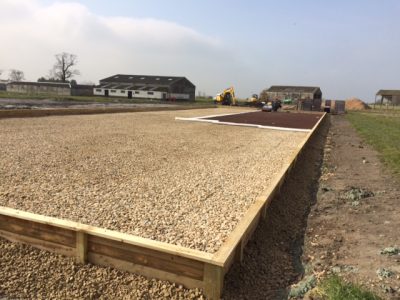 Riding arena design
Do I need planning permission for an outdoor riding arena?
In short, yes. If your intention is to build an outdoor riding arena, you will need to make a planning application before you're able to break ground on your project. The same can be said for indoor riding arenas. You'll also need to be clear about the construction of new access routes, if this is something you're likely to require. 
Planning permissions and their accompanying fees can throw off the schedule and budget of your project if they're not accounted for in the earliest stages. Be sure to gather the details on your council's planning laws so that an appropriate amount of time and money can be assigned to acquiring the necessary permissions, and the designs can be drafted to avoid running into any complications before the build is underway. 
Read our top planning tips for building a riding arena here. 
What size should my riding arena be? 
The size of your arena will be determined by what you intend to use it for. As a general guide, novice dressage arenas are usually around 40m x 20m, whilst advanced dressage arenas are built slightly larger – around 60m x 20m – and showjumping arenas usually measure around 60m x 35m. Do remember to take into account any extra area required around the perimeter of your arena for fencing when you're doing your calculations and selecting your site. 
Our advice would be to go for the largest arena that your budget will allow, without you having to compromise on the quality of the materials or construction teams used for the project. This will allow you to avoid constantly riding the boards and will mean less wear on the surface overall, as you'll be able to ride less intensively across a larger surface area.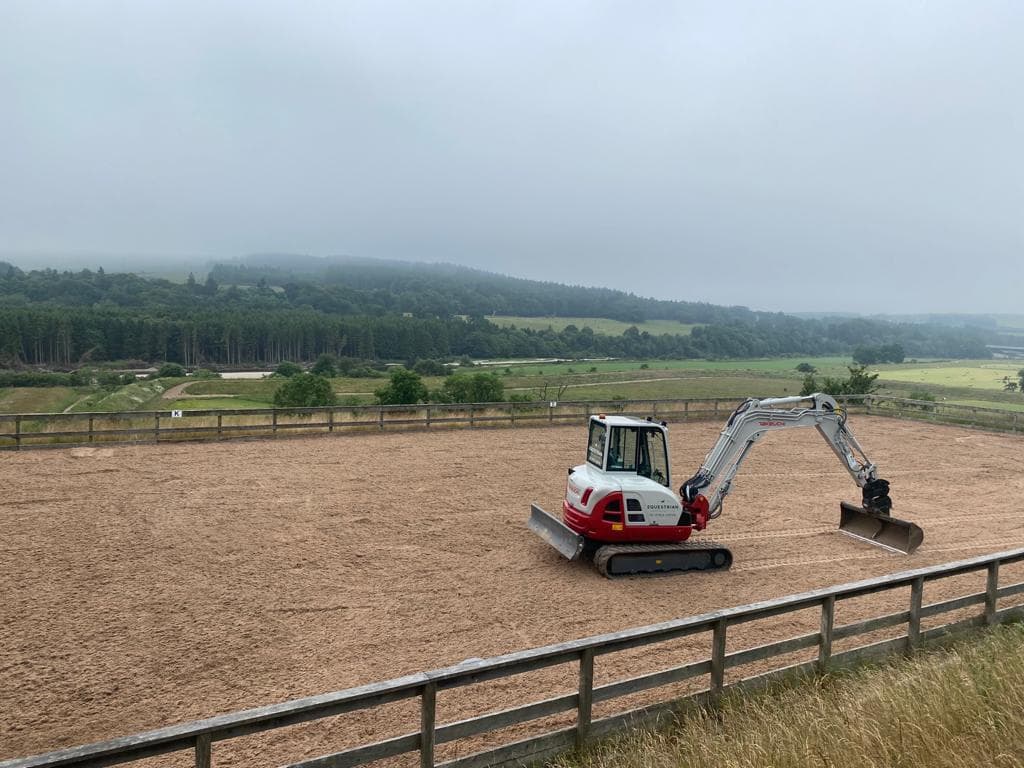 The construction process
Selecting the site for your new arena
When it comes to building a new riding arena, there are a number of considerations that are critical. The first is budgeting; you don't want your funds drying up before the project is complete. 
The second is selecting a site, and with this, there are a whole host of aspects and potential obstacles to take into account. 
Firstly, you should prioritise building on safe ground. A reputable supplier will be keen to remind you that the sub-base for your arena is absolutely key; and the more level the site it, the less expensive the ground preparation will be. 
It's also important to remember that anything cut into the ground is put at an increased risk of becoming water-logged in bad weather. There are ways around this, however it will usually involve having a more complex and advanced drainage system installed, which is likely to bring your costs up. 
Another factor to consider is the practicality of the job for the construction team. Ideally, you want the job to be as straightforward and practical for your construction team as possible. Construction will be made more difficult if there is limited access for delivery lorries and construction machinery, which could lead to lengthy delays for your project. 
With this in mind, it's a good idea to assess the access to your site, making note of anything that may potentially cause complications, before you start to get in touch with different companies for quotes. Will the large, heavy machines required to deliver your materials and build your new arena be able to move easily across the ground, or are they likely to run into some difficulty? It's also important not to forget that vehicles of this size can be tricky to manoeuvre, and will require a much bigger turning circle than your average car or van, which you will need to make sure you have space for on site. 
In order for work to go ahead, the site will need to be clear of gas lines, power lines, or other service lines, and if land drains are present, make sure your contractor sees the plans so that construction can be planned accordingly. 
It's ideal to avoid tree belts where possible, or else take into account that you'll need to clear any debris from your surface before you ride on it, which may be quite a job in the autumn, when the leaves begin to fall! 
Contamination control is critical if you want to ensure your surface continues to perform for the duration of its lifespan. If left to sit on your surface for too long, mud and other debris may eventually work its way through the layers and become lodged in the surface membrane, affecting its ability to drain water away from the surface and leaving your surface more susceptible to flooding. With this in mind, you should make sure that the arena's access tracks are kept clean, thereby minimising the amount of debris being carried onto the surface from horses' hooves and maintenance machinery. For the same reason, you might also choose to build on a site that's close to your stables, as this will help to minimise the amount of mud brought into your arena on your horse's hooves. Additionally, a convenient water supply will make the maintenance of your surface easier for you and your team. Non-waxed surfaces require regular irrigation, so for these, an accessible source of water is essential and should be given priority when considering the location of your new outdoor riding arena.
Preparing your site 
Once you've selected the perfect site for your new riding arena, works can commence! Our teams will break ground at the site, removing the turf and ensuring the site is perfectly level before they move on to installing the drainage system for your new outdoor riding arena.
Riding arena drainage 
Making sure you invest in the correct drainage system for your surface is a key aspect of arena construction, and it should be considered from the very earliest stages of your project. 
Having a sub-standard drainage system in place for your arena, or one which is not appropriate for your site, can lead to an array of problems affecting the safety of your surface, along with its composition and performance. Over time, this can ultimately reduce your surface's expected lifespan, leading to the substantial costs of having to replace your surface coming sooner than you might have anticipated. 
The drainage solution installed for your riding arena will be dependent upon whether your arena is an indoor or outdoor arena. 
If you're planning to build an indoor riding arena, your surface will be largely protected from the elements, so the key role your drainage system will play is in protecting your surface against shearing. 
Shearing occurs when areas of surface move from a dry side to a moist side of the arena, leading to corrugations in the surface, which results in an unstable footing. 
Drainage systems in indoor riding arenas are largely responsible for ensuring moisture levels in the surface can be easily controlled and regulated. This will mean; 
Holding back any moisture or water that will naturally be in the ground, preventing it from contaminating even the deepest layers of the surface

 

Allowing for any water that's added to the surface as part of your maintenance routine to be stored, to prevent the surface from drying out too quickly 

Enabling any excess moisture or water to drain away from the surface and into the earth 
When it comes to drainage for outdoor riding arenas, the key thing to remember is that your outdoor arena surface will remain exposed to the elements throughout the year, and the various weather conditions and fluctuations in temperature will likely impact the composition of the surface and, by extension, the way the surface performs. 
When considering the groundworks and drainage for your outdoor riding arena, it's important to invest in an appropriate, high-quality drainage system that will help to maximise the lifespan of your surface. 
Drainage systems for outdoor riding arenas will broadly have two main functions; 
Helping the surface to retain moisture in dry months, thereby reducing dust and ensuring the surface continues to perform at its best 

Allowing water to drain away from the surface, preventing your outdoor riding arena from becoming waterlogged in the wetter months, and leaving it less vulnerable to freezing temperatures during the winter
Constructing a stable base layer 
Our approach to the construction of surface sub-structures is three-fold. Once the site has been cleared, levelled, and is ready for construction, we will; 
       1. Install a base layer 
This consists of a permeable mixture of stone and gravel, and its main purpose is to aid the movement of water away from the surface, whilst also providing a solid foundation that can support the layers above. 
There is no standard, 'one size fits all' approach when it comes to constructing the base layer for a riding arena. One of the key things our team has to take into account when installing a base layer is the amount of weight the base will need to bear; it should be no less than 25cm thick once compacted. 
       2. Lay the grid, or membrane layer 
The membrane layer will prevent the base layer from mixing with and contaminating your surface, whilst also allowing water to drain away. 
Once the base layer has been constructed and your surface membrane installed, it's time to install your riding surface!
Riding arena surfaces 
The health and performance of your horse can be affected by the surface you choose for your arena. With a number of surface options available on the market, it's important to try and find out as much information as possible, to help you land on the right decision. 
When it comes to picking out a surface for your new indoor or outdoor riding arena, you'll usually be faced with one main question; waxed or non-waxed? Each type of surface offers a different range of benefits which you'll need to take into account, along with your budget, and the demands of the discipline you practice within. 
Waxed arena surfaces 
Waxed-coated surfaces are well suited to all disciplines, and allow the horse to perform well with minimal stress or strain. The wax in their makeup offers a resistance to freezing in cold weather, whilst also reducing the need for irrigation during warmer spells, and they're safe to use all year round, meaning you never have to miss a day of riding.
Whilst they may require a greater initial investment, waxed riding surfaces are known for their durability, lack of dust, and the ease with which they can be maintained. When properly maintained, it's not uncommon for waxed riding surfaces to continue to perform well for a decade or longer, without the need for replacement or refurbishment. 
Non-waxed arena surfaces 
A non-waxed riding surface is a stable and economical option for your outdoor riding arena. However, it's important to keep in mind that a non-waxed surface will require maintenance much more frequently than a waxed riding surface. It will also be more susceptible to frost, so if you regularly experience freezing temperatures, it's advisable to invest in an arena cover to protect your surface from the elements, or consider investing in a waxed alternative. 
Perfect for arenas in wetter climates, a non-waxed riding surface will need to be watered (irrigated) often in dry climates in order to maintain its structure, and continue to perform well. Ensuring your surface is regularly irrigated will not only help to keep it dust-free, but it will also keep the materials of the surface bound together, which in turn produces a stable surface for increased grip and support. 
For a host of tips on arena surface maintenance, irrigation, and grading, read our blog. 
Our world-class racing and competition surface 
The original waxed surface, offering top-quality results for all disciplines 
Designed to promote soundness and user confidence 
The affordable waxed surface for private or professional use 
A high-grade surface teamed with our Ebb & Flow automated drainage system 
A pre-blended, non-waxed surface guaranteeing consistent quality 
Our cost-effective and environmentally-friendly surface option, for improved stability 
Taking a turnkey approach to all arena construction projects 
With over 35 years of industry experience, at Equestrian Surfaces Ltd, we take a great deal of pride not only in the quality of our products, but also in the quality of the service we strive to provide, adopting a comprehensive, turnkey approach to the construction of indoor and outdoor riding arenas for clients across the globe. 
All of our surfaces are manufactured in-house in the UK. Utilising state-of-the-art technology and equipment, every grain of sand and thread of fibre that forms the content of each surface is meticulously monitored by computers, enabling confidence in our guarantee of a consistent level of quality in every product across our range. 
If you require assistance with the planning and design stage for your new riding arena, we work closely with a planning consultant who can not only provide expert advice, but can also manage your planning application throughout the whole planning process. With a 100% success rate on gaining planning permissions on equestrian installations, you can rest assured that your application will be handled by the best in the business.
At Equestrian Surfaces, our experienced construction teams are passionate about delivering an excellent level of service, including providing an aftercare service which has been highly rated by customers. Whether your project involves the refurbishment of an existing arena or surface, or the construction of an entirely new riding arena or equestrian facility, investing in our team will ensure that all work will be carried out with accuracy and efficiency. 
We aim to provide long-lasting surfaces that offer the ideal levels of cushioning, support, and energy return. With longevity in mind, we advise customers to consider all available options before making a final decision. Our experienced team are always on hand to answer any queries you may have. If you have any questions or queries about your surfacing requirements, please get in touch.