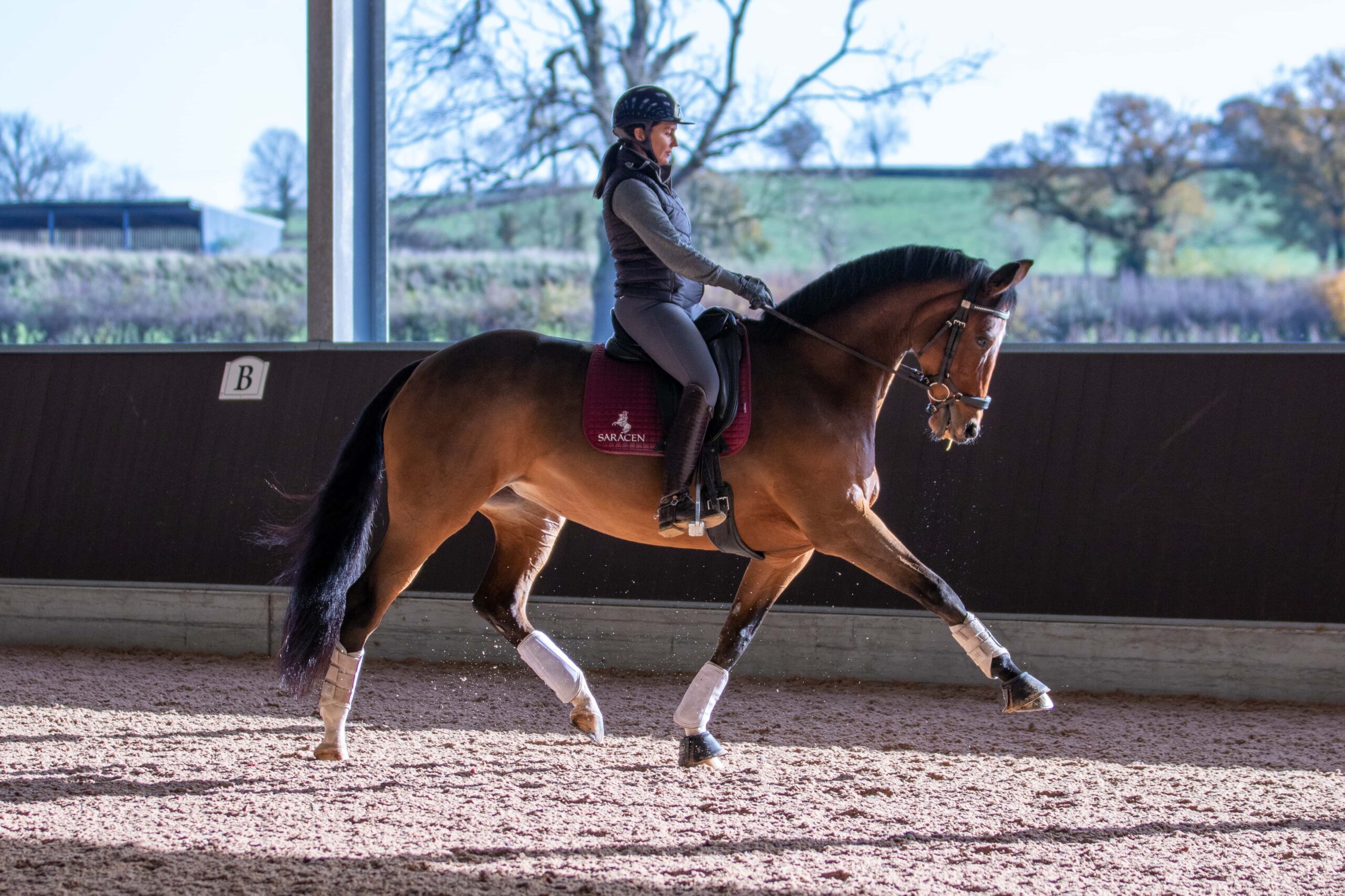 18.10
2021
What is the best dressage arena surface?
When it comes to dressage, it's essential that you ensure the surface you're training and competing on is properly maintained and engineered to support the complex movements and accuracy demanded by the sport. 
Purchasing and practicing on an inappropriate surface over a prolonged period of time can not only have a negative impact on confidence levels in horse and rider, but it can also lead to sustained injury, particularly in a horse's joints. 
The best way to prevent concussion and reduce the risk of structural damage to the joints, repetitive strain, or long-term injury, is to invest in a high-quality riding surface which offers the right level of cushioning and support. 
What are the main qualities of a good dressage surface?
The best
dressage surface
will offer a softer footing to support the horse as it moves laterally across the arena. Additionally, the perfect dressage surface will; 
Have an open tilth and a softer finish on top 

Support dynamic movement 

Provide excellent grip 

Be consistent & durable 
It's important to remember that a harder surface, or one which easily becomes compacted, will not be ideal for dressage, as this will not allow for the horse's hooves to penetrate the surface as well during lateral movements, causing imbalance in the horse and increased concussion on joints. This can lead to issues with soundness in the long term. 
Should I buy a waxed or a non-waxed surface for dressage? 
As a dressage rider, both waxed and non-waxed surface options are available to you. However, the team here at Equestrian Surfaces Ltd are more likely to recommend a waxed surface, as it will be more consistent across every square metre of the arena in all weathers, and will be easier to maintain than a non-waxed surface. 
Our experts recommend: 
Sound Track 
Sound Track's elite provision of comfort, shock absorption, support and energy return has led to the surface becoming renowned for promoting soundness in horses. 
Cushion Track Classic 
Designed for high-level use and heavy footfall, Cushion Track Classic is a quality waxed surface which provides excellent levels of support, stability and cushioning. 
Wax Track 
With the lowest wax content in the range, our Wax Track offers a cost-effective, economical surface option, reducing the need for irrigation whilst providing excellent consistency and support. 
Used & loved by 
Gareth & Rebecca Hughes – Hughes Dressage 
"We use Equestrian Surfaces for both our indoor and outdoor arenas. I can honestly say the quality of the product is second to none. It definitely improves the quality, confidence and movement of our horses." 
A bit about us 
The surface range at Equestrian Surfaces Ltd has been developed following years of in-depth research, and features a selection of durable, all-weather waxed and non-waxed surfaces which will provide a consistent footing when used for training, schooling, or competition purposes. 
A leading provider, trusted by private and professional equestrians across the globe, we've been manufacturing and supplying high-quality riding surfaces for over 35 years. 
Ready to make a start on planning for the construction of your new dressage arena? Looking for a surface top-up, or interested in the supply and installation services we offer? Contact a member of our team today on 01282 834970, and we will be more than happy to help you with selecting your surface.